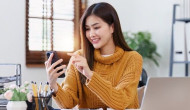 Summary

Click on the LIVE Banking button to open a new account!

Welcome to LIVE Banking! A Live, Interactive, Virtual, Experience to open a new account from anywhere! Connect with a product expert Monday - Friday 9:00 am to 4:00 pm PST.

We strive to understand the needs of our clients and growing communities. In today's world, it can be a challenge to leave your home or office, which is why United Business Bank has made it simple. Connect with a product expert today!

If you are trying to connect with us after business hours, or you would like to schedule an appointment with one of our product experts, please fill out the form below.

We look forward to connecting with you virtually!

Click "Play" for more information on LIVE Banking!